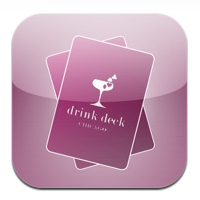 Drink Deck Chicago

Looking for a consistent deal at quality bar scenes in Chicago? Tired of Drink Special apps that post every bar in the city with out of date specials? Cut through the clutter and gain access to the bar enthusiast's travel & discount guide, Drink Deck Chicago!


We "doubled down" to bring you a mobile version of our popular deck of playing cards. Drink Deck Chicago features mapped addresses and search functionality allowing you to create a bar crawl from 52 of Chicago's best watering holes in 16 bar genres (think Beer Bar, Wine Bar, Gastropub, Neighborhood Joint) and 19 Neighborhoods across the city, from Pilsen to Lincoln Square.


Use Drink Deck's mobile app:
•To easily phone a bar and/or browse their web site
•Redeem Drink Deck cards for $10 off your bar tab
•No expiration!
•Give your iPhone or iTouch to your server, tap the bottom left hand corner of a Drink Deck bar card, and save $10 off a $30 bar tab (food and/or drink)

Drink Deck Chicago hot spots include:
•Pops for Champagne : a wine bar in River North
•Reggies Music Joint: a music bar in the South Loop
•Small Bar Fullerton: a beer bar in Lincoln Park
•The Bluebird: a gastropub in Bucktown
•The Fifty/50: a sports bar in Wicker Park

At $19.99, you can pay yourself back by visiting just TWO of Drink Deck's 52 bar scenes! Pick up a copy for yourself or gift it to your drinkin' buddies! Is that a great coupon deal or what?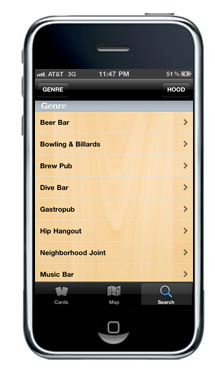 Read what others are saying about the Drink Deck playing cards:

"Card players, cocktail enthusiasts, and anyone who likes a good deal are bound to eat up Drink Deck."
-Time Out Chicago

"To use it, saunter into one of these watering holes, pull the deck out of your pocket, slowly reveal your trump card and then order up a drink with the studied grit of a veteran card shark. (Or just hand the bartender the coupon. Either way.) And finally, your $20 ante will result in a guaranteed return of $520—that is, if you can drink enough. We like your odds."
-UrbanDaddy Chicago
Also covered in the Chicago Tribune, Chicagonista, The Examiner, and many others!


Visit www.TheDrinkDeck.com for more information about the Drink Deck Chicago offerings


Save Some Cash!