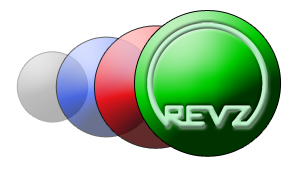 Revz

Revz is an arcade-style action game with vibrant graphics, great sound effects, and a kickin' music track. Challenge yourself with a quick game whenever you've got a few a minutes to play.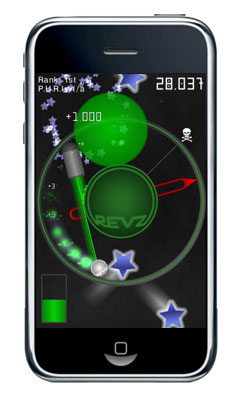 Arcade action is back in fashion! The challenge in Revz is to keep the ball moving as long as possible. That's how you rack up points. Blast the ball with the boost cannon to speed it up, but don't run out of boost!

Revz gameplay is unique, thanks to the excellent motion-sensing capabilities and touch screen of the iPhone and iPod touch. It's like having a mini arcade game in your hand.

The worldwide scoreboard (leaderboard) puts you in direct competition with Revz players everywhere. When you can't keep the ball moving fast enough, it explodes and your game is over. Then you'll see how you rank locally (on your iPhone or iPod touch) and have the option to share your score with the world. You're fast, right? Then get your hands on Revz and get yourself the #1 ranking!

When the game kicks off, you have five seconds to get the ball moving by tilting the device with your hand. That's how you "Rev It Up!!!". The announcer's voice gives you a five second countdown. After you rev up the ball with your hand, it's time to keep it moving. Fire the boost cannon by pressing the big green button in the middle of the screen to get the ball flying fast! Since Revz is a game of skill, you'll have to figure out your own personal technique for getting the highest score. We promise a challenge!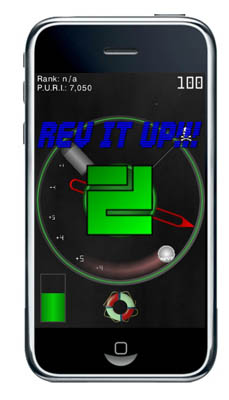 Be sure to watch the boost meter! When you run out of boost, you're in trouble. You can grab more boost by tapping the green orbs that float by.

You monitor your speed with the red speedometer needle. Don't let it fall below the skull and crossbones line! When the ball is moving too slow, Revz will sound a warning beep. That's when you know you better do something fast!

If at first you don't succeed, Revz on! It wouldn't be as fun if it took no practice to master, would it?

Revz has a great music track, awesome sound effects, and classic arcade-style graphics and gameplay. Pass it around among your friends to challenge each other or play against the rest of the world. Either way, Revz is going to keep you pushing your skills to the limit.


You just gotta play.